Arc Flash Study & Power Engineering Services
Our professional engineers will give you confidence in the safety and reliability of your facility with an arc flash study and other power engineering services.
Specialists in performing an arc flash study, CBS Field Services provides a wide range of power engineering services across the U.S. This includes virtually all types of power system studies, electrical commissioning plans, and personnel training. These services ensure the reliable operation of your facility's electrical system and the safety of your personnel.
Every upgrade, expansion, additional load, or other change in your power distribution system can result in conditions for which your power system was not designed. If appropriate adjustments are not made, an overload, short circuit, or ground fault can result in exposing your personnel to an unsafe condition and/or an unscheduled outage.
Our professional engineers have experience in performing electrical systems studies to ensure compliance with the requirements of NFPA 70E, IEEE, OSHA, and NEC. We can boost your confidence in the safety and reliability of your facility by providing an arc flash study, a coordination study, or a short circuit or other power system study for new facilities or expansions. We can also provide electrical maintenance and testing training for your personnel.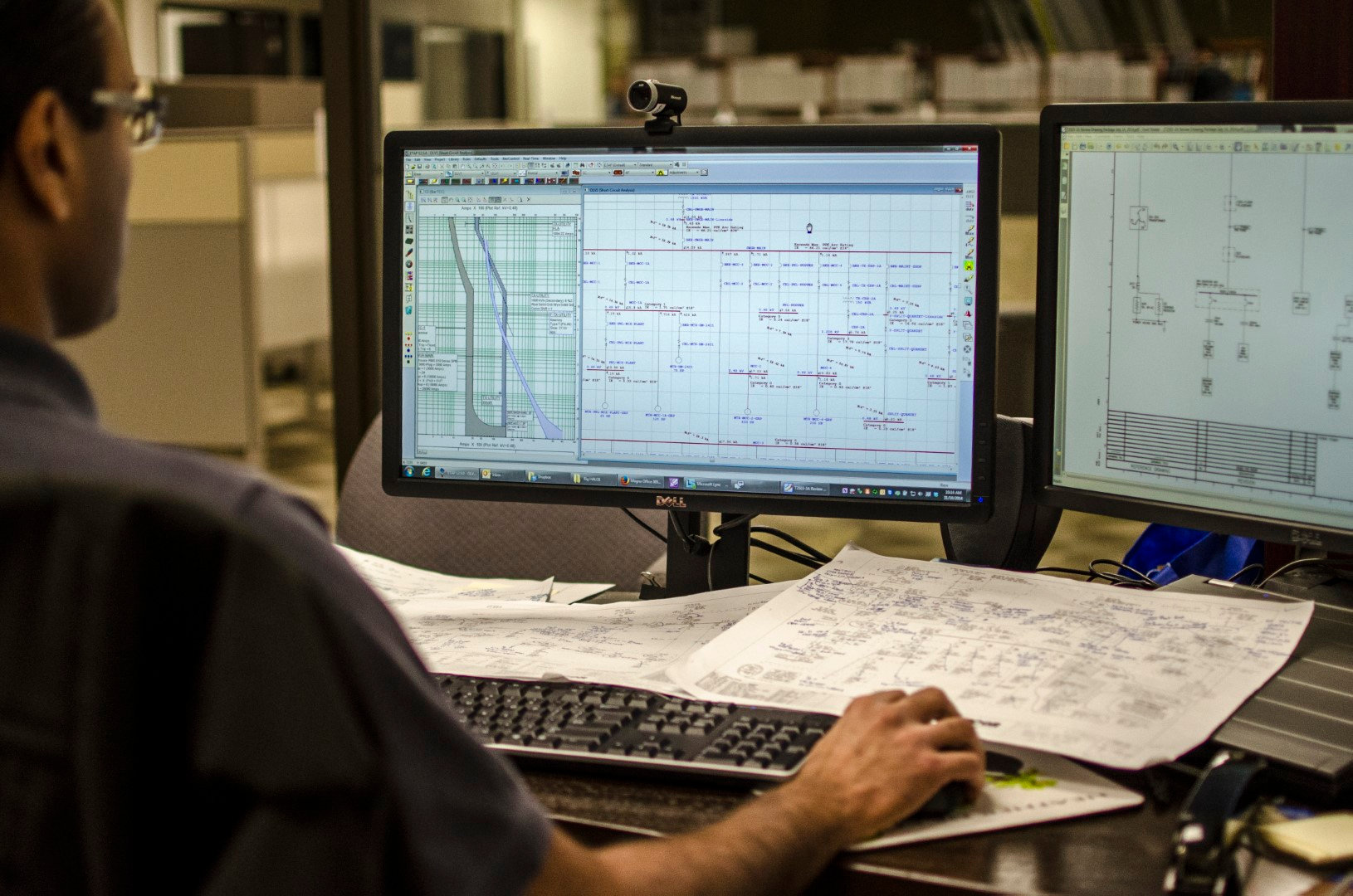 In simplest terms, an arc flash is an electrical explosion caused by a short circuit, either conductor-to-conductor or conductor-to-ground, that can result in the destruction of electrical equipment and serious injury or death to nearby workers.
What Is an Arc Flash Study?
Also known as an arc flash analysis or arc flash hazard study or analysis, our arc flash study includes an on-site evaluation of your electrical system, short circuit and coordination studies, and an incident energy analysis. An arc flash risk assessment is performed and recommendations are provided for arc flash equipment labeling, personal protective equipment (PPE) categories, and solutions to mitigate (lower) arc flash hazards in your facility.
Contact us for more information or to discuss your requirements for an arc flash study for your facility.
Power System Engineering Services
Our power system engineering services include a comprehensive range of system analysis and studies including, but are not limited to, the following:
Arc flash hazard analysis

Short-circuit study

Protective device coordination study

Power factor correction

Power quality monitoring

Harmonic analysis
Transient analysis

Motor-starting analysis

Grounding study

Fault analysis

Failure analysis

And more!
Electrical Commissioning Plan
We develop a commissioning plan to document how your electrical system project will undergo acceptance testing. The plan includes, but is not limited, to:
General project information

Commissioning goals

What equipment/systems will be commissioned

A plan to test the equipment/systems including:
Explanation of the design intent

Equipment and systems to be tested

Functions to be tested

Criteria for acceptable performance

Commissioning team information

Commission process including schedules and responsibilities
Our field-experienced trainers can come to your facility and provide hands-on training that's tailored to your personnel and specific requirements. Areas covered include electrical system safety, maintenance, codes and standards, and more.
Electrical safety

Substation maintenance and testing

Circuit breaker maintenance and testing
Protective relay maintenance and testing

NFPA 70E

NEC — National Electrical Code

And more!
Contact us today to discuss your requirements, request a quotation, or receive additional information.
Arc Flash Study & Other Power Engineering Services
Our professional engineers will give you confidence in the safety and reliability of your facility with an arc flash study and other power engineering services.
Electrical Acceptance Testing & Commissioning
Lifelong reliable power system service starts with a comprehensive critical acceptance testing plan. We ensure accurate, unbiased testing and reporting.
Electrical Testing & Preventive Maintenance
Schedule electrical testing & maintenance services from CBS Field Services – such as power monitoring, circuit breaker timing, and others – to ensure your power system is reliable and safe.
Keep up with the latest information from CBS Field Services and developments from across the electrical industry.
OTHER SERVICES FROM
GROUP CBS
The Group CBS family of electrical field service, service shop, and power products companies offer everything you need for manufacturing, testing, parts, repairs, and engineering services.
NETA Accreditation Ensures High-Quality
As a NETA Accredited Company since 2011, CBS Field Services has numerous NETA certified technicians on staff.  We underwent a rigorous application process to ensure that we provide electrical testing and maintenance services to the highest standards of safety and reliability,